The reverse search enables you to search for members that are interested in your location. It can be your city, your state or your country. Finding an exchange just became easier!
If you have a desired destination where you would like to go and you want to know which members from this area are interested in your location, start by filling the search bar (destination, dates and number of guests) and click on the magnifying glass to reach the search page.

On the search page, click on the "Reverse search" button.

A window will open where you can enter your location (city, state, region or country). You cannot add a continent.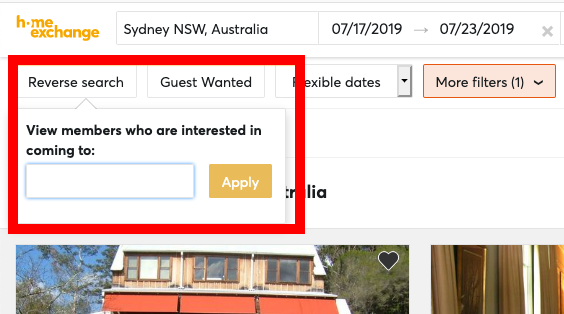 As you confirm your location from the drop down menu, click on the apply button and the results will adjust automatically.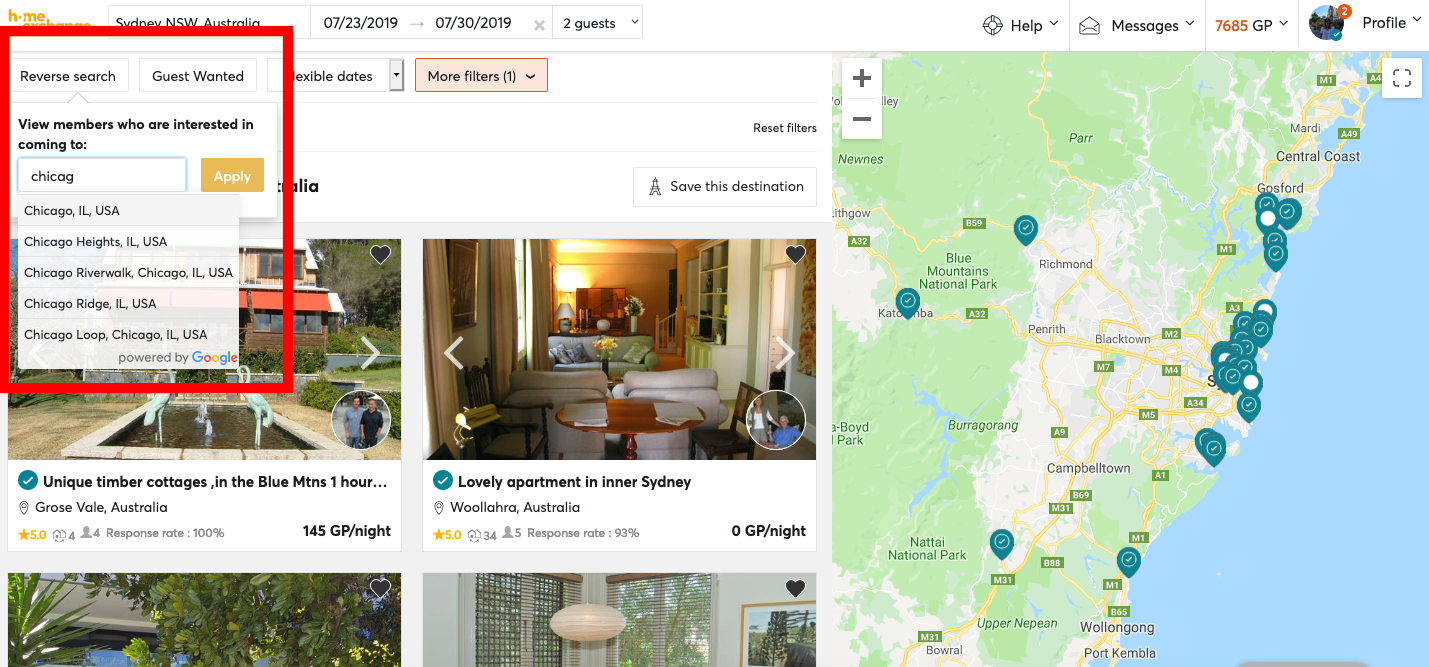 The advantage of this system is that you can choose the reverse search region yourself. For example, if you live in a little, unknown village, look who wants to come to the nearest city, the region you are in, or even your country.
Note 1: Reverse search will only show preferred destinations of the same administrative level. If I search for who wants to come to Spain, only those members who have entered "Spain" in their preferred destination will be displayed. Those who have entered "Catalonia" or "Madrid" will not appear. We advise to try a few locations ( state, country, region). It is a choice that we made when implementing the reverse search as we noticed that, when members enter a country in their preferred destinations, many of them would not accept to go anywhere in that country. This way, the reverse search allows you to be more precise as to where you want to go and to have more accurate results.
Note 2: If you do not put dates to a preferred destination, it will be taken as "no matter when" and will be displayed in the results regardless of the dates of the reverse search.
If you do not have a desired destination yet but just want to see how many members are interested in your location, click on the magnifying glass.

*Do note that the magnifying glass is not visible on the search homepage. In this case, simply use the "reverse search" filter and results will adjust automatically.
To find out how preferred destinations work, click here.