To find your listing's details, hover your mouse over "My account" at the top right corner of the page and click the "My home" tab from the drop-down menu (Note: if you have more than one home, the addresses will appear instead of 'My home').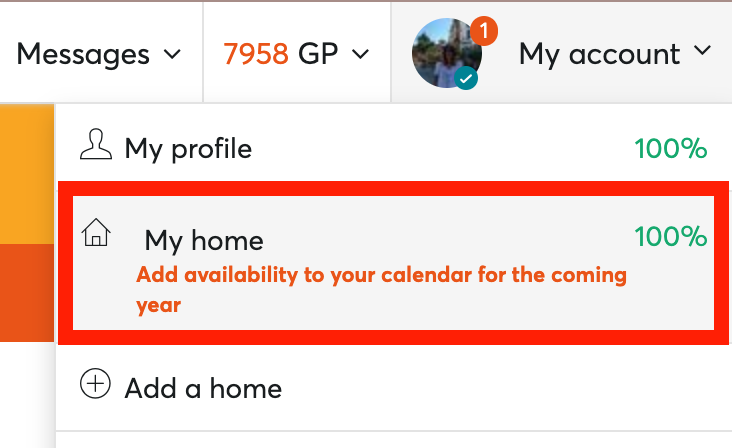 To fully complete your listing, you need to include:
Your home type (house/apartment) and residence type (primary/secondary)
Your address and location

Important: this is private information and will only be visible to members that finalize an exchange with you
To help you select the correct location here are the definitions:

A local site: tens of thousands of annual visitors (e.g. Colmar, Sedona, Cork City)
A national site: hundreds of thousands of annual visitors (e.g. Strasbourg, Manchester, Aspen)
An international site: millions of annual tourists (e.g. NYC, Paris, London)

If you are having issues finding your address, try broadening the address.

Direct surroundings that best match your home's location. Select one or two criteria that describe your home's surroundings.

The size of your home (in m² or ft², you can choose the type of measurement for your account in "Settings")
Number of bathrooms and bedrooms
The number/type of beds you have in your home
Amenities: what your home is equipped with
A description of your home and your neighborhood
The availability of your home
At least 5 pictures of your home
Completing your first listing will earn you 200 GuestPoints! Also, you will only be able to become a verified member if your profile and your listing are 100% complete.
What happens if my listing is less than 80% complete?
If your listing is less than 80% complete, you cannot see the full listings of other members (for example their photos) nor contact them. Therefore, you will not be able to arrange exchanges.
How do I edit/update my listing?
Once on your listing page, on the left hand side, you can choose the section you want to update or simply scroll down the page and update as you go.
From this page, you can choose to update your photos, description, calendar, GuestPoints.. but you can also choose to un-publish your listing or to delete it entirely.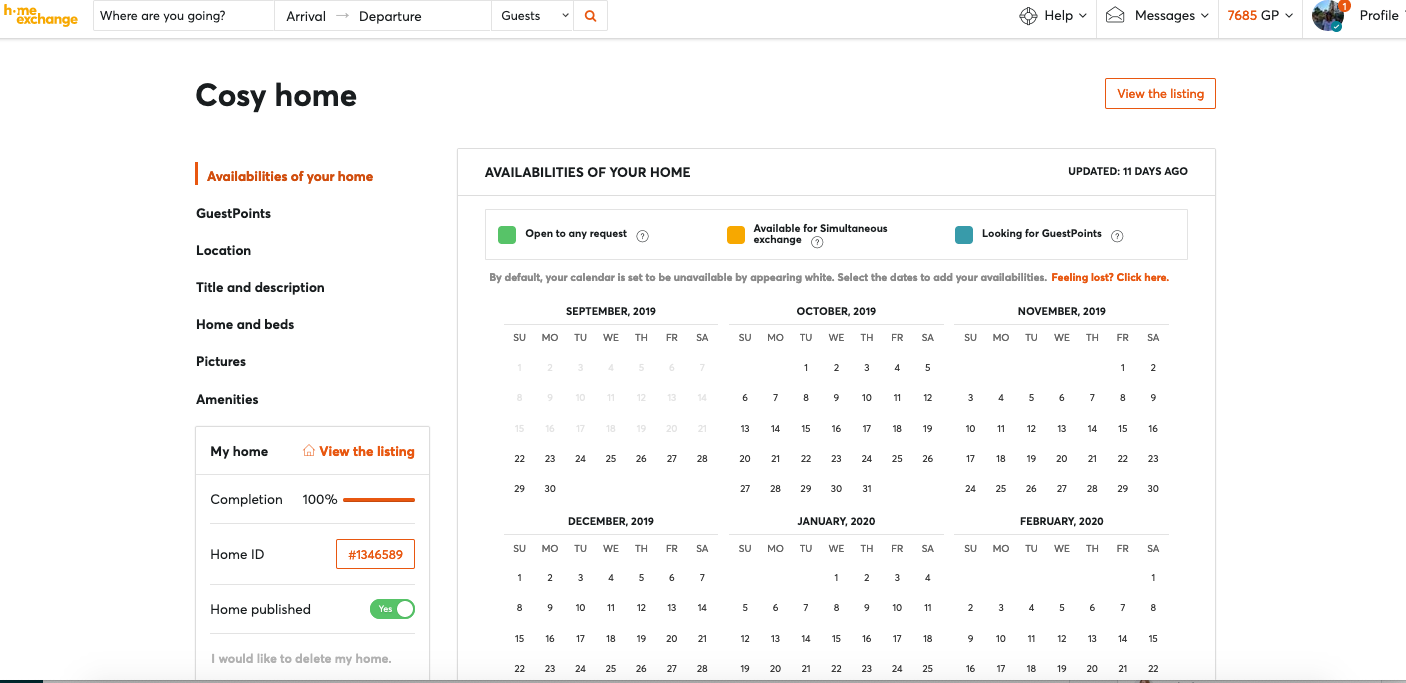 Once you finish editing any information, please remember to save the changes by clicking on "Save changes" at the bottom of the page. Even if you just want to preview your listing, save first!

Do note that you cannot update your address once your listing is verified!
If you are using our app, click here.