To update your calendar, please click on "My account" on the top right-hand corner of the screen and then click on "My Home" in the drop-down menu (if you have more than one listing, click on the address of the home whose calendar you want to update).
Once on your home page, scroll down to the calendar.
By default, your calendar is empty and will appear in white.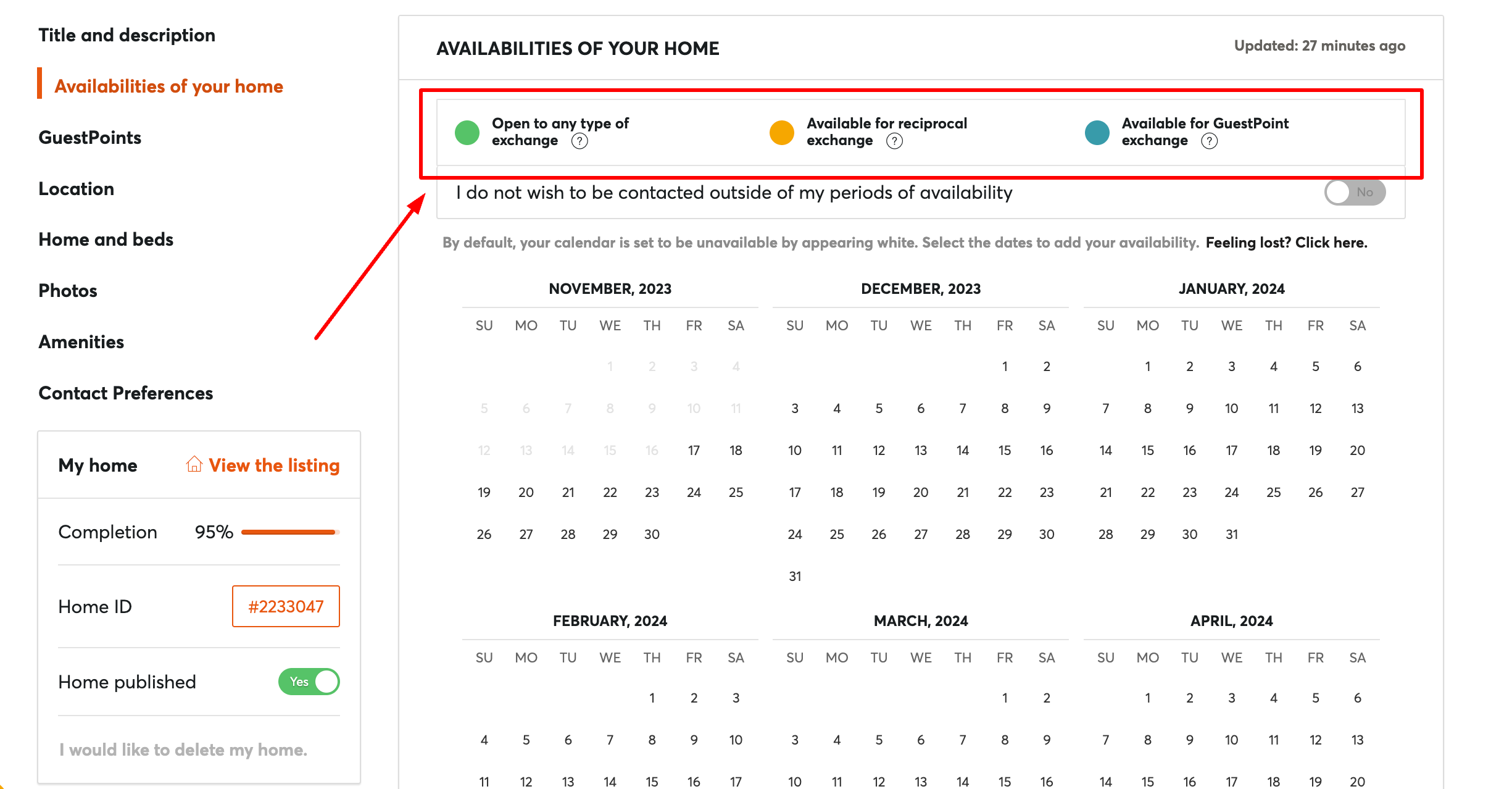 At the top of the calendar, you will see three options with colors to complete your calendar. Next to each option/color, you have a "?" that you can click on to obtain more information.
Here are the three colors/options that you can choose from to indicate an availability in your calendar:
Green "Open to any request" - on these dates, you are open to any exchange type (simultaneous, non simultaneous, for GuestPoints, no GuestPoints, etc.)
Yellow "Available for reciprocal exchange" - on these dates, you are looking for reciprocal exchanges ("I travel to you and you travel to me")
Blue "Available for GuestPoint exchange" - on these dates, you are open to exchanges with GuestPoints where you do not travel ("My home is available on these dates and I would like to host for GuestPoints")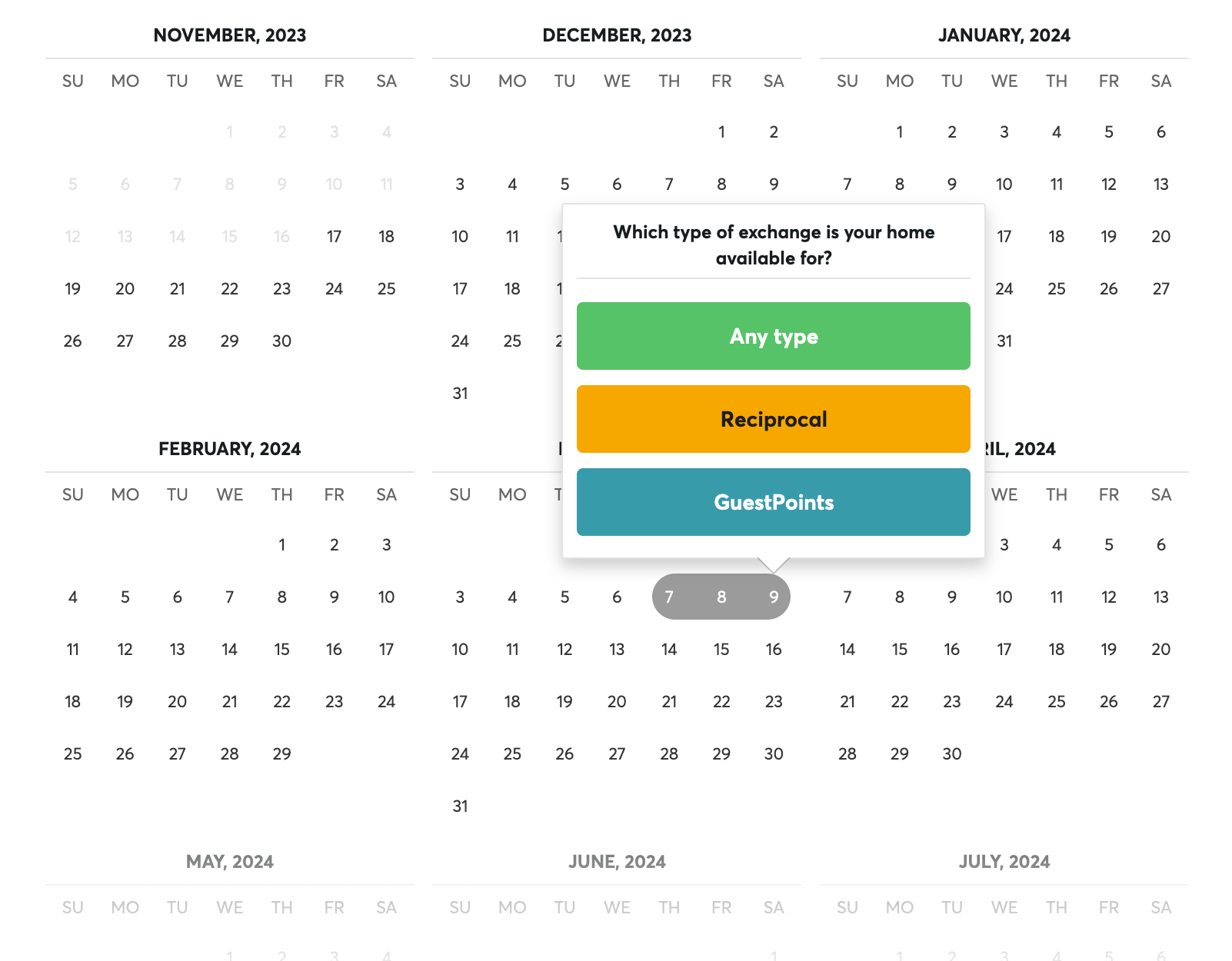 Click on the first date and on the last date of the availability you want to create to mark the period. As you do so, a pop up menu will show where you can choose the type of exchange you want to indicate for those dates.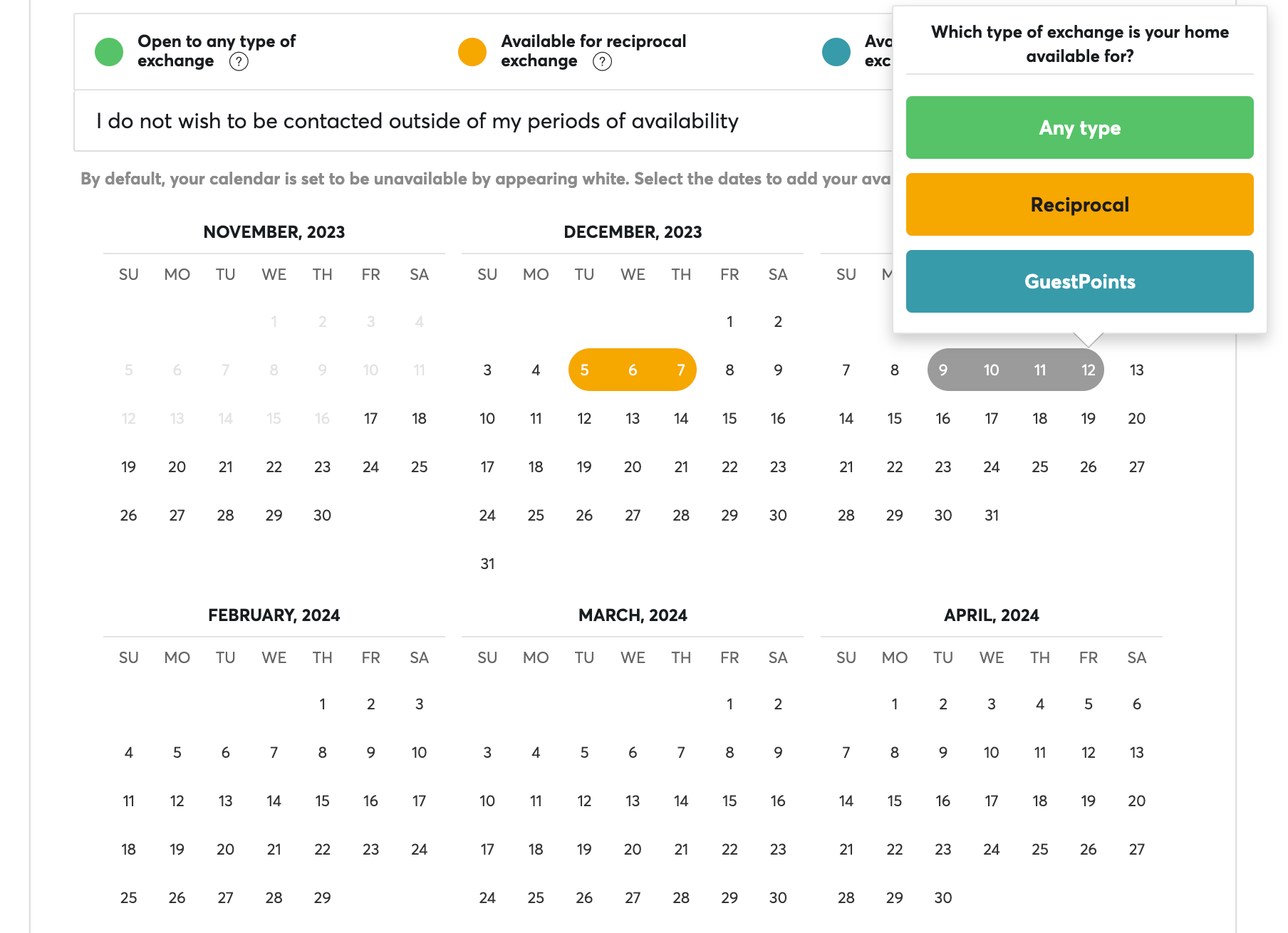 If you want to add new dates, again mark the start and end date and choose the exchange type.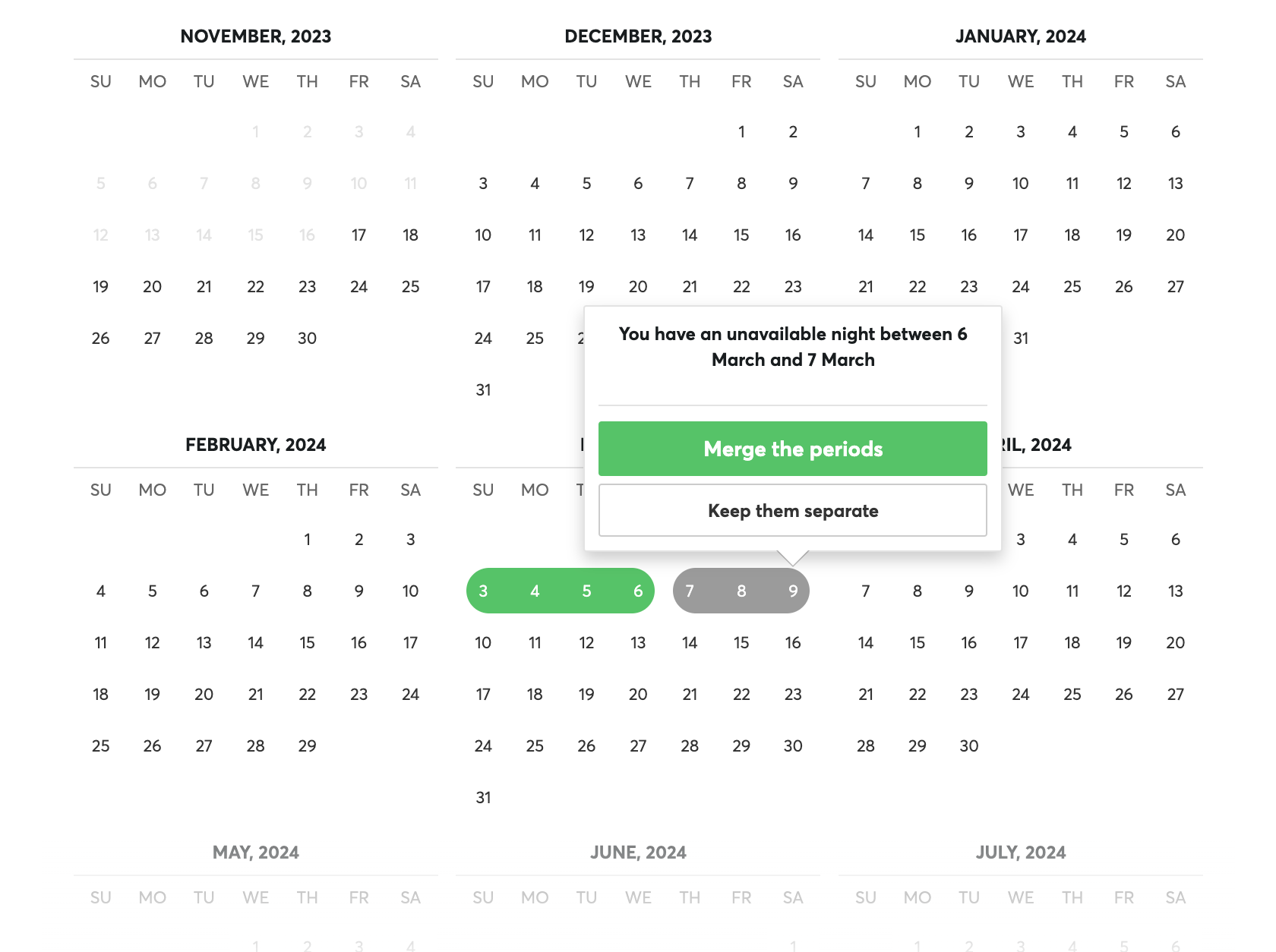 If you add two periods with 1 day apart, the system will offer you an option to "merge the periods" or to "keep them separate".
If you choose to merge the periods, the new set of dates will be marked as the previous dates. If you want to keep them separate, you will again have an option to mark those dates as you wish.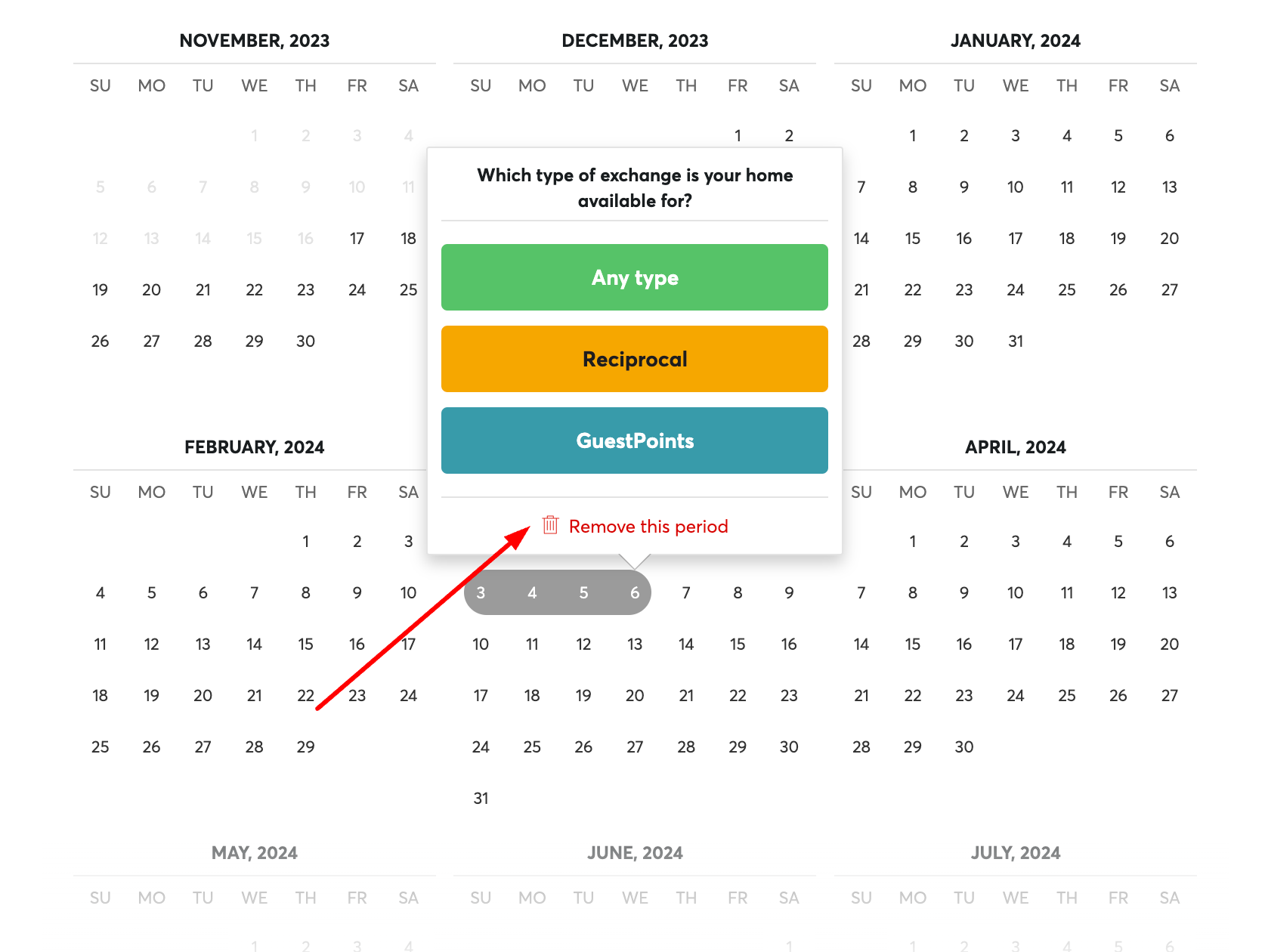 To delete the dates, simply click on the first and last date of the period you want to remove and from the pop-up menu choose "delete this period".
When an exchange is finalized as a host*, the dates of this exchange will appear in red on your calendar.
*Only your exchanges finalized as a host will appear in your calendar because the calendar is linked to the availability of your home. You will find your exchanges finalized as a guest on the "My Exchanges" page ("My account" > "My exchanges").
Also note that when you make changes to the calendar, there will be no "Save" button as the changes are automatically saved!
We also created a little video on the subject to help you further :)